Michele Martinez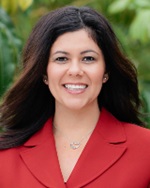 Michele served for twelve years as Councilmember in the City of Santa Ana, CA (2006-2018). During this time, she became the first council member to serve as President of the National Association of Latino Elected and Appointed Officials (NALEO), the first council member to serve as President of the Southern California Association of Governments (SCAG), and the youngest woman to serve as the Mayor Pro Tem for the City of Santa Ana.

Michele Martinez is considered one of the nation's political change agent leaders of her time and is recognized for her reputation as an effective regional public policy leader, her understanding and knowledge of government and its political dimension in California, fostering innovation and data-driven policy decision-making, and her ability to connect the dots to build thriving communities that put people first, and lastly, her regional cutting-edge approach on advancing policies and solutions to the unique and complex challenges in navigating the regulatory and political environment in housing, water, air, transportation, economic development, land-use/ zoning, and technology.

Using her 15 years of public policy experience and her influence as a regional and national leader Michele has drawn on her experience as a former elected official and her extensive network of relationships to support her life's purpose to put people first and create healthy, vibrant, and sustainable communities and to collaborate with municipalities, private and non-profit sector to identify and scale viable 21st century solutions.

Since leaving public office Michele has been volunteering her time by serving as a pro-bono policy advisor for U.S.District Judge David O. Carter on the issue of homelessness for North and Central Orange County, and within a year of her involvement Orange County has constructed 8 shelters and 2 more are in the pipeline and should be completed by the end of 2020. With Michele's leadership and her regional relationships and networks she was also able to scale across regions to help other cities with homelessness. The City of Bellflower and the City of Whittier are the first two cities outside of Orange County to enter and settle into the Orange County homeless lawsuit to provide emergency shelters. Furthermore, Michele was recently appointed by U.S.District Judge David O. Carter to serve as a Special Master on the issues of homelessness, and the specific lawsuit by the Alliance for Human Rights against the City and County of Los Angeles regarding homelessness.