Mitch Weiss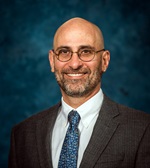 Mitch Weiss was appointed Executive Director of the California Transportation Commission in January 2020. As Executive Director, he has guided the Commission in advancing its commitment to equity and climate objectives, including through the issuance of a Racial Equity Statement, creation of an Equity Advisory Roundtable, and current implementation of the Climate Action Plan for Transportation Infrastructure. He also ensured the Commission stayed on schedule dedicating funds to transportation projects throughout the COVID pandemic, including the programming of more than $20 billion to transportation projects in 2020.
Mr. Weiss has served as a member of the Commission's staff for more than a dozen years. Prior to his appointment as Executive Director, he served for two years as Chief Deputy Director. In this capacity, he led the Commission's implementation of Senate Bill 1, the Road Repair and Accountability Act, which provided the first significant, stable, and ongoing increase in California's transportation funding in more than two decades. This effort included dozens of public workshops and culminated in the commitment of over $9 billion in Senate Bill 1 funds in just 13 months.
Mr. Weiss previously held positions as the Commission's Deputy Director for Programming, policy advisor for the Commission's Road Charge Technical Advisory Committee, and the Deputy Secretary for Administration and Finance at the California State Transportation Agency. Prior to these positions, Mr. Weiss held several positions in the budget offices of the California Department of Transportation and the California Integrated Waste Management Board.